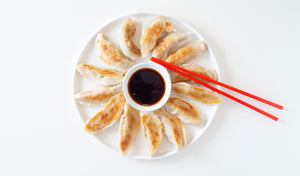 Authentic Chinese Homestyle Fare
Making people happy one dumpling at a time.
Customer Reviews
Roast pork buns from heaven!

James K.
Brookline, MA

The food was AMAZING! Everyone was raving about it.

Cal C.
Waltham, MA

Really authentic food. Get the classic pork and chive dumplings and the chicken dumplings.

Jeremy H.
Newton, MA

Try these dumplings! The dumplings and buns were delicious and made the perfect family meal.

Andrew K.
Weston, MA

DUMPLiNG DAUGHTER™ in the Press
This is one of the best takeout meals I've had in months… A bright spot in a bleak restaurant landscape, with dishes you'll return to again and again, even if it's just in front of the television.

The Boston Globe
Whereas Sally Ling's specialized in white-tablecloth, banquet-style fare, Dumpling Daughter focuses on the "classic, Chinese comfort home food" that Spellman ate when she was young.

Boston Magazine
Dumpling Daughter's Chinese food is exquisite

Sheryl Julian, Boston Globe
AS SEEN ON